Would You Pay $500,000 Over the Asking Price?
It turns out that over 2,000 people will.

Zillow reported that the number of homes sold for $500,000 over the asking price in Q2 hit 1,670 nationwide.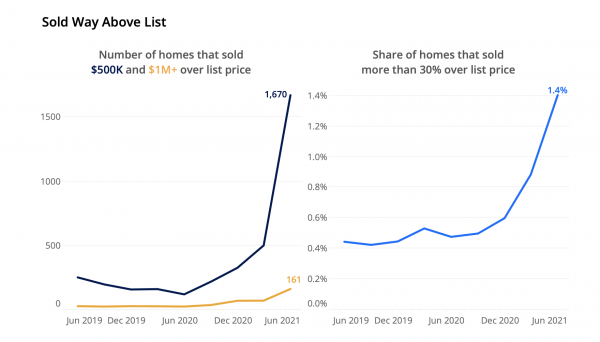 Here's where it gets interesting…
During the same season where people were breaking records for paying above the asking price, Redfin reported that nearly 5% of listings saw price drops, the highest level since 2019.
What's the key takeaway?
When your home is priced and marketed the right way, you can create a tremendous amount of demand.But if your home isn't priced properly and isn't marketed, your home could become stale.
When buyers notice your home's been on the market for several weeks without an offer, they begin to wonder what's wrong with it.
This can result in fewer showings, fewer offers, and a lower sale price.
The bottom line?
Pricing and marketing matter, even in a hot seller's market.
P.S. Over the next couple of days, I'll be connecting 1 on 1 with my clients to discuss their real estate plans for 2021/2022. Would you like me to call you as well?