Let's Talk About the "R" Word
Hi everyone! Today let's talk about the economy. I'd like to talk to you about my buyers and sellers concerns about the housing market, and that scary, horrible word - recession.
You can't get away from the news media discussing it or trying to grab your attention with scary headlines. Today, I'd like to focus on what we know is happening, what's happened in the past and what we anticipate happening in the future.
A recession is often defined as consecutive declining quarters of gross domestic production - an economic slowdown. This isn't a surprise to anyone but people oftentimes become more conservative or even panic. We've seen that happen in the market.
An important and very differentiating key factor is that a recession is NOT a housing crisis. Take a look at this graph: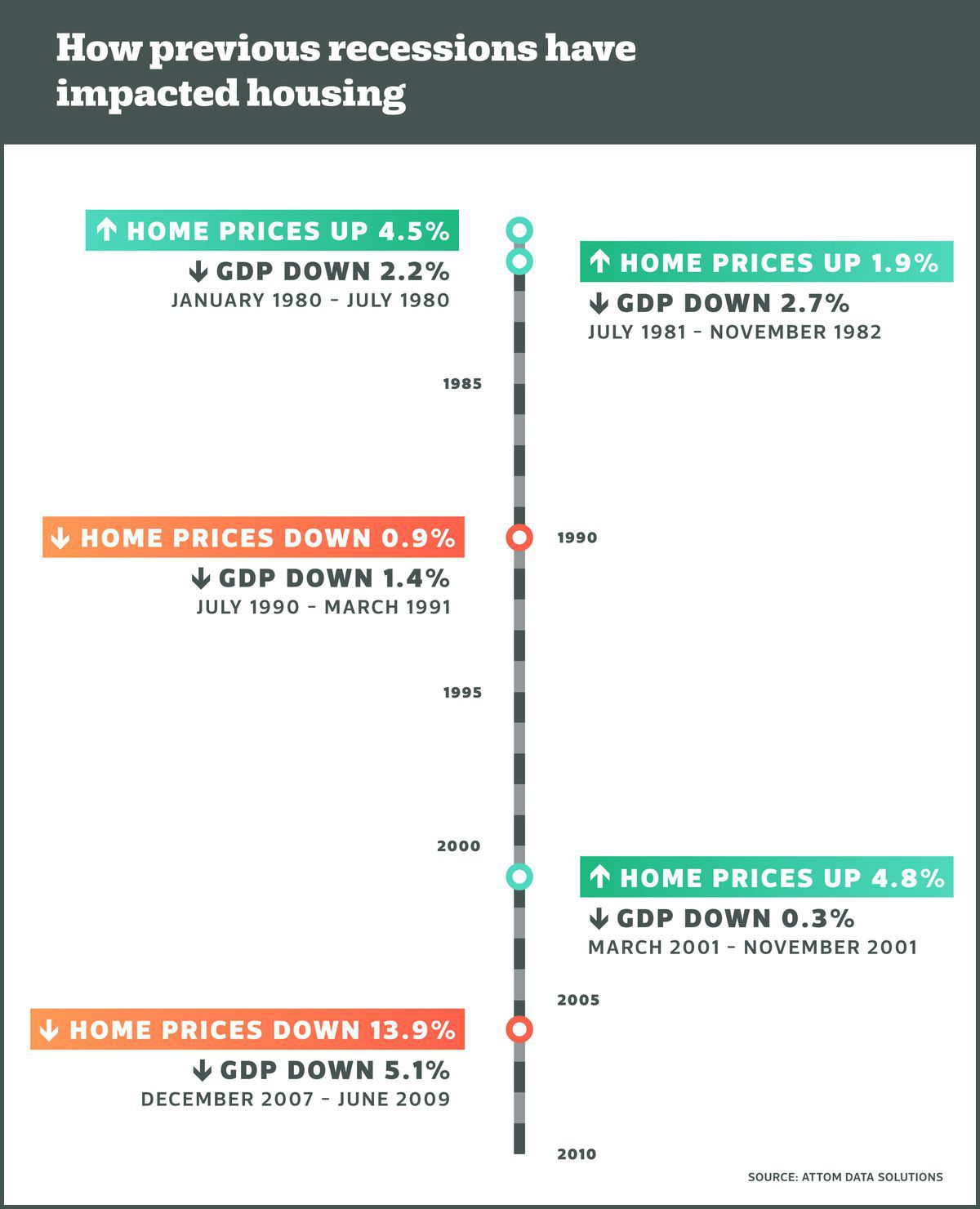 In the last 5 recessions, only 2 have had a negative impact on the housing market, 2008 being the most impactful. The recession in 2008 was caused by the housing market. Of course home prices were going to be impacted.
The reality today, three of the last five recessions we've actually seen home prices increase. Think about that for a moment!
All current indicators are that the housing market is not linked to an upcoming recession. Don't let scary headlines about trade wars or a bumpy political climate lead you to believe that we are headed into a housing crisis. We are not.
Right now is the most unique time to be a buyer or seller in the real estate market, especially in the Greater Cincinnati area. We are at all-time historic interest rate lows. I'd suggest this, if you're unhappy or nervous about the volatility in the stock market, would you consider investing in real estate?
Right now, in the Northern Kentucky/Greater Cincinnati market there are about 5700 homes for sale. And, on average, we're selling about 2000 homes a month in the MLS system.
We, at the Janell Stuckwisch Group, are working with buyers, sellers, and investors on a weekly basis to help them solidify their real estate investments. This recession, when it comes, will not look like 2008. Not at all.
Let's talk about the past for a moment. I obtained my real estate license in 2006, and we weathered the storm in 2008. For those that have purchased or invested in real estate from 2008 until today have built a significant amount of equity in their real estate investment portfolios.
In fact, if you are thinking of selling…what are you waiting for? This market is a very unique combination of historic all-time interest rate lows and peak prices!
Regardless of market conditions, people are always moving. They get married, they get divorced, they have more children, they get job transfers, they die. People will always need a place to live.
In the Northern Kentucky and Greater Cincinnati market we have major corporations moving people in and out all the time. We're seeing it happen right before our eyes. Think about Jeff Bezos and Amazon, it's happening right now!
Is the recession coming? Likely. Will it be a repeat of 2008? I don't think so.
If fact, I'd propose this (that I'm doing the same myself), have you considered investing in rental property?
I'm Janell with the Janell Stuckwisch Group at Coldwell Banker. I'd be delighted to sit down with you to discuss your needs when it comes to real estate. Are you buying a home? Are you purchasing an investment property? Do you need to sell your home? How do you position your home (for sale) in today's market?
I'd be delighted to speak with you at your convenience, 859-992-1602. Please give me a call.
Selling Your Home?
Get your home's value - our custom reports include accurate and up to date information.
Get Home Value